Dental technology is constantly improving. At McCullough Dental, we make great efforts to provide our patients with some of the greatest advantages this technology has to offer. We are pleased to have several pieces of technology at our disposal that will make your procedures faster, easier, and more comfortable.
Digital X-rays
Digitizing our x-rays has made them more efficient and easier to read. By cutting out the chemical processing involved in traditional x-rays and giving us the ability to enhance on-screen images, digital x-rays have made it possible for us to get more accurate information to you faster than ever!
Intraoral Cameras
Like the digital x-rays, our intraoral cameras give us the ability to look more closely at your teeth and gums and to enhance the images that we capture. This great tool also allows us to project what it's picking up onto a computer screen, meaning that you, the patient, are able to see exactly what we're seeing.
ORTHOPHOS
The remarkable Orthophos XG 3D is a hybrid unit that takes 3D x-rays for advanced diagnostics and implant planning while emitting the lowest possible effective dose for the patient.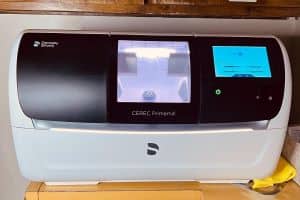 CEREC
With CEREC, you can expect high-quality dental restorations in just a single visit. By using 3-D imaging, our CEREC machine is able to design and build your custom dental restoration before you even leave the dentist's chair.
Cone Beam CT Scanner
With our Cone Beam CT Scanner, we're able to create accurate 3D digital images that allow us to make more accurate diagnoses, properly evaluate your mouth, and create more personalized treatment plans. This technology is particularly useful for dental pathology procedures and implant dentistry.
Surgical Guide
This device ensures accurate placement for our dental implants. When our placements are as accurate as possible, we can ensure the lasting success of your dental implants as well as a comfortable procedure for you.
We are excited about the benefits that excellent dental technology can offer our patients. Call our Bakersfield office to schedule an appointment and experience those benefits for yourself!
I've been going here for almost 3 years. I love it! Staff is super friendly, super accommodating, and I love the fact they offer LATER appointments. It was the best! Thank you guys!
– Des L.