Your Family Dentist in Bakersfield
Dr. McCullough and his staff at McCullough Dental are proud to provide dental care for the whole family! Dr. McCullough is experienced in treating adults and children, so he understands that patients from each age range have their own expectations and needs when visiting the dentist.
We strive to make our office a friendly and inviting place for children, adults, and seniors. It is the goal of the entire practice to inspire enduring confidence in each of our patients by giving them the tools they need to maintain good oral health.
Dentistry for Every Age and Stage of Life
Adults want to be informed and to have the opportunity to use the latest technology. They want high-quality care for both themselves and their families. Dentistry for children is more concerned with comfort and respect as they sit in the dentist's chair.
At McCullough Dental in Bakersfield, we are looking forward to building a positive relationship with you and your children. We even recommend bringing your children in soon after the appearance of their first tooth to allow them to become comfortable with Dr. McCullough, our staff, and dental offices in general.
We will also help your child start to develop good dental hygiene habits. Once it is time for a procedure, your child will already trust Dr. McCullough, which will make the visit less intimidating.
Family Dentistry Services
Having all members of the family visit the same dentist will make appointments easier on everyone, including young children. Going beyond teeth cleaning, McCullough Dental offers many services for your family, including the following: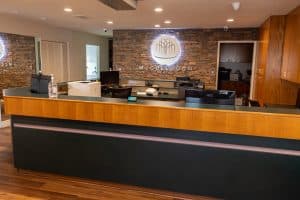 Semi-annual cleanings: The thorough kind of teeth cleaning you can only receive at a dentist's office. We'll leave your teeth with that squeaky-clean feeling. It is important to visit us once every six months so we can keep your mouth clean and healthy.
Digital x-rays and exams: Thorough exams help us find any problems in your mouth early, so we can fix them. X-rays are an essential, preventive diagnostic tool that provides us with valuable information about your mouth.
Oral cancer screenings: We'll check your mouth for signs of cancer or precancerous conditions in your mouth. When mouth cancer is identified early, there is a greater chance for remission.
Muscle exams: Your jaw plays an important role in your overall oral health. During a muscle exam, we can check the muscles and joints of your jaw and mouth for any issues, such as occlusion or TMJ disorder.
TMJ evaluations: The temporomandibular joints are joints and jaw muscles that make it possible to open and close your mouth. If you have a click in your jaw or feel any facial pain, we can evaluate you for TMJ dysfunction (TMD).
Sealants: Let us help you prevent tooth decay with our quick-bonding sealant. This sealant covers the grooves and divots of the back teeth, keeping decay from ever gaining a foothold there.
Fillings: We understand that many children haven't yet had the time or experience to develop good dental habits. A few cavities might be inevitable! Fortunately, we're able to offer white fillings that match teeth so naturally that no one will know they're there.
All our services are meant for the entire family. Whether you have one tooth or thirty, we want to keep them as healthy as possible and make them look pretty too!
Bring Your Family to McCullough Dental
Our staff is dedicated to educating the whole family and building relationships. Let us make your family's treatment a masterpiece here at McCullough Dental in Bakersfield! Set an appointment today to come and meet our friendly staff.
Amber is an amazing hygienist and the staff is jovial, courteous and pleasant to interact with. Definitely recommend this office to anyone seeking a change. Dr. McCullough seems to have his patients best interests in mind.
– Gino G.