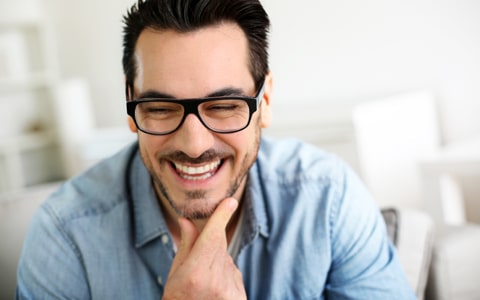 If you want whiter teeth you are not alone! It is common to be dissatisfied with the appearance of our smiles. You don't have to be stuck with a yellowed, spotted, or stained smile for the rest of your life, however.
There are many ways you can go about getting a brighter smile. An amazingly effective method for teeth whitening is done by a professional like Dr. McCullough. He can get your smile up to ten times whiter in just a few visits! Set an appointment today for the white teeth you've been missing. 
How Does Professional Teeth Whitening Work?
Professional teeth whitening is the fastest way to get whiter teeth. The results are safe and long-lasting. 
Getting your teeth whitening done professionally means getting a higher-grade whitening solution. While getting you the results you want Dr. McCullough can supervise to make sure you are safe and that the results are heading in the direction you want. 
The Teeth Whitening Process
Teeth whitening is not a complicated procedure, and a single session usually takes about sixty minutes to an hour. When you come in for your appointment, your dentist will record the current color of your tooth, then remove any plaque from your teeth.
Dr. McCullough will put a barrier over your gums, to protect them from the solution. Once your gums are covered, the whitening solution is applied. The solution is left on your teeth for several minutes to remove stains. 
Once the designated time has passed, the dentist will rinse your teeth and apply fluoride to avoid sensitivity. Depending on the shade of your teeth when you start, it may take a few sessions to achieve your desired shade of white. 
Professional vs. OTC Teeth Whitening
Over-the-counter methods like tooth whitening toothpaste can be used to whiten teeth with less dramatic results. If you choose this method, you also run the risk of heightened sensitivity or wasting your money. 
Generally, the appeal of over-the-counter solutions is the price. These options are cheaper than professional whitening for a reason. When it comes to teeth whitening, you get what you pay for. McCullough Dental has the quality teeth whitening you're looking for. 
Professional Teeth Whitening Makes a Big Difference
There are many over-the-counter options for at-home teeth whitening and they can help! But faster and better teeth whitening results are achieved with your dentist. If you are a good candidate, teeth whitening is safe and effective.
When you get your teeth whitened at McCullough Dental, you can experience the following benefits:
Brighter Smile:

Of course, the main benefit is a set of white teeth that shine. Say goodbye to those stains and say hello to a new gorgeous smile. 
Better Confidence:

When you can smile proudly with your whitened teeth, it's easy to smile more often. 
Safe Treatment:

Any treatment done by a professional is going to be safer than cheap do-it-yourself ones. 
High Quality:

Get your money's worth when investing in your smile! Our professional teeth whitening is incredibly effective at creating beautiful smiles.
How to Keep Teeth White
Once you get to your teeth whitening goal, don't waste your beautiful smile on bad habits! The way you treat your teeth can keep them white or lead to additional stains. To keep your white teeth white, you should always:
Avoid staining food and drink like coffee, red wine, or berries. 

Eat crunchy fruits and vegetables that keep your teeth white. 

Practice good oral hygiene. 
Teeth Whitening in Bakersfield, California
If you are interested in getting your teeth whitened, or you have other questions about cosmetic dental procedures, you can get answers at McCullough Dental. We provide a wide range of cosmetic dentistry services, and we are eager to help. 
The expertly trained and attentive staff at McCullough Dental can help you reach your dental goals and improve your oral health. Schedule an appointment with us today to get started.