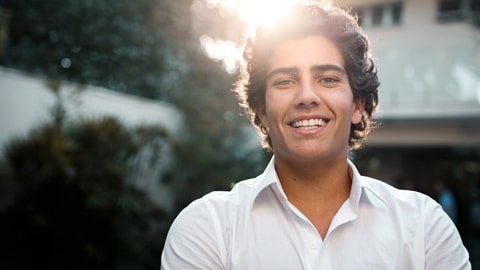 While much of what a dentist does is all about keeping your teeth clean and healthy, many dentists can go far beyond that. Unlike a primary doctor, a dentist may offer services intended solely to improve your appearance.
Cosmetic Dentistry Basics
Cosmetic dentistry includes any dental service that whitens, straightens, or enhances your smile's appearance. Here are a few examples:
Teeth whitening.
Dental veneers.
Dental bonding.
SureSmile® clear aligners.
Dental implants.
Who Are Good Candidates for Cosmetic Dentistry?
Anyone can benefit from a great-looking smile. Usually, cosmetic dentistry is used by adult patients who are uncomfortable with the way their teeth look. These patients can use cosmetic dentistry services to fix these smile blemishes:
Cracked teeth.
Gaps between teeth.
Teeth that are broken.
Tooth stains.
Uneven teeth.
McCullough Dental Can Fix Your Smile
If any of the above conditions sound familiar, try cosmetic dentistry at McCullough Dental. We offer cosmetic services that can mend cracks, close gaps, straighten teeth, and whiten enamel. Call us today to schedule an appointment.
Reasons To Get Cosmetic Dentistry
You Have a Wedding or Graduation Coming Up
Special events are great opportunities to freshen up your look. Cosmetic dentistry is all about giving you a gorgeous smile you can be proud of — the perfect thing for your special day. Even something as simple as a whitening treatment can go a long way toward making the occasion even more memorable.
You Don't Want To Have To Show Your Teeth in Family Pictures Again
Do you feel uncomfortable smiling in pictures? This isn't unusual, and there's an easy fix. Cosmetic dentistry services like SureSmile aligners or veneers can straighten out your smile and give you a confidence boost. Remove one stress from family pictures by giving yourself a stunning new smile that will make your cousins jealous.
You Find Smiling in Public Difficult or Uncomfortable
Many people struggle with smiling in front of others. They are constantly aware of a gap, stain, or chip in their teeth, which makes it difficult for them to be themselves. Sound familiar? Cosmetic dentistry services can help! Get yourself a smile you can be proud to show off in private and in public.
Your Smile Makes You Self-Conscious or Embarrassed
Does your smile have imperfections that you just can't ignore? Do you smile at yourself in the mirror and then immediately cringe? Restore your confidence with cosmetic dental treatments. You'll be surprised how much more sure of yourself you'll be when you are happy with the smile you see in the mirror.
Reasons Not To Get Cosmetic Dentistry
While cosmetic dentistry is right for some people, for others it is unnecessary and even harmful. You probably don't need cosmetic dentistry if you fit into the following categories:
You lack the money. Cosmetic dentistry ranges in price, but because it isn't necessary for health, many insurance companies won't cover it.
You're happy with your smile. If your smile doesn't have imperfections that need fixing, then cosmetic dentistry isn't for you.
You have underlying health conditions. Some health conditions may make adopting and caring for cosmetic treatments difficult.
You need restorative work done first. Before providing cosmetic treatments, Dr. McCullough will treat any cavities, gingivitis, and infections.
Find Out Which Cosmetic Dentistry Services Are Right For You
When you schedule an appointment with Dr. McCullough, he'll perform a thorough exam and discuss your smile concerns with you. He'll be able to tell you whether cosmetic treatments can help and provide recommendations for which ones to try.
Schedule Your Consultation Now
Our office provides same-day dental services for many of our cosmetic treatments. You can get a dazzling new smile in no time! Contact us to schedule a consultation appointment or to speak with our dental team.