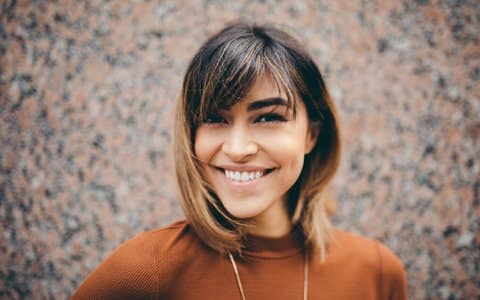 Veneers come in all different shapes, sizes, and colors. They are 100% customizable. You can get a complete smile makeover that checks all of your boxes with dental veneers. There are limitless options available so you can have the smile of your dreams.
Do Veneers Work?
Veneers are shell-like covers that surround your teeth creating a brand-new smile. Since veneers are made out of porcelain, they are incredibly durable and are a permanent solution. Your veneers may need to be replaced every 7–15 years depending on whether you take proper care of them.
The main benefits of porcelain dental veneers that work for everyone are:
Natural tooth appearance: This type of veneer creates a translucence look that allows for a seamless smile.
Gums tolerate porcelain: The porcelain material is compatible with gums to give you a comfortable transition without any discoloration.
Stain resistant: Unlike real teeth, porcelain veneers are stain-resistant so you will not have to continue with teeth whitening after receiving them.
Makes dark teeth appear brighter: While these give you a cosmetic boost for dark teeth you should keep in mind that you cannot whiten your teeth after getting veneers so you should whiten beforehand and choose a cement shade that you like.
While veneers are long-lasting you should still take caution when eating hard foods. If you want your veneers to last longer, try to avoid grinding your teeth and chewing ice. Make sure to continue proper dental hygiene with regular dental visits.
Dental Veneers Process
Any treatment can seem daunting especially when you do not know what to expect. The veneer process is fairly simple but requires some prep work to cater the veneers to your mouth.
Consultation
This step consists of creating a treatment plan based on your diagnosis. You will receive x-rays and impressions to give the dental team a blueprint of your mouth to create the molds for the veneers.
Tooth Preparation
To get your veneers placed your teeth will need to be prepped. This consists of reshaping your teeth to allow the veneers to attach to your real teeth. This will create an exact fit allowing the veneers to be durable and long-lasting.
Placing the Veneers
During this step the veneers will be bonded to your teeth after the dentist has reviewed them for fit and color, they will be trimmed and adjusted to make sure you are getting the results you want. The dentist will then cement the veneers to your teeth making them durable and strong like real teeth.
Maintenance and Aftercare
There may be additional adjustments made to your bite or the shape of the veneer depending on the feel and look. The dentist may have you return for a follow-up visit to make sure the veneers are according to your liking and everything is in order. Proper dental care and regular dental visits are necessary for the longevity of your veneers.
Porcelain Veneers to Gain Confidence!
Veneers are a favorite and common treatment for a complete smile makeover. Not only will this service give you stunning results but it will save you time and money in the future due to its stain-resistant nature.
If you want long-lasting results that look natural and feel just like real teeth, porcelain veneers are a great option for you. Contact our dental team for a full rundown on what to expect and if you are a good candidate for the porcelain veneer treatment. Smile with confidence when you get dental veneers!