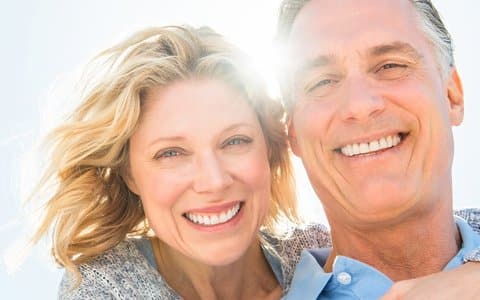 Everyone goes through various levels of insecurities without having to add the embarrassment associated with missing teeth. This can negatively impact one's self-esteem and quality of life. With dental implants you can restore and embrace your smile.
This treatment is revolutionary for your smile because it not only restores the look and feel of your original teeth but it gives you the same function as well. This means you can eat, drink, talk, and live just how you would with your natural teeth giving you a fully restored smile. To schedule an initial consultation, call our dental office today!
Understanding Dental Implants
While this service is permanent and fully restorative it is a fairly simple procedure. The implants are comprised of titanium posts that are bonded to the jawbone to mimic roots. This allows your smile to have a strong support and function as normal. After the posts are secured the site will need to heal and then you can add dental accessories such as crowns, bridges or dentures.
The Advantages of Dental Implants
Similar to any dental treatment there are numerous benefits that you can expect. Some of the most prominent perks to dental implants are:
Natural Look and Feel: With color match, titanium posts, and advanced technology, your dental implants should provide a natural-looking smile that is compatible with your gums giving you a seamless feel.
Improved Oral Health: The titanium posts allow the site of your missing tooth to heal and close the area for bacteria so that you do not have to worry about an infection or gum disease growing. This will protect your oral health in the future so that you have a strong foundation.
Enhanced Chewing and Speaking: Not only can missing teeth cause self-esteem issues but worrying about your dentures slipping out or chewing with discomfort can also affect your self-confidence. That is why dental implants are a great option to give you a secure smile so that you can eat and speak with confidence.
Longevity: Due to the bonding to the jawbone this treatment is designed to be a permanent service allowing you to have a long-lasting replacement. This allows you to live with confidence and without worry for a whole lifetime making it a cost-effective treatment.
Bone Health: After someone loses a tooth there is bone deterioration in the jawbone, this can increase facial wrinkles and cause sagging. Dental implants solve this problem by stimulating the jawbone and keeping it strong.
To see if dental implants are right for you, call our dental office today to schedule an appointment.
The Dental Implant Procedure
Our dental team will walk you through all of the steps involved in the dental implant process so that you are fully prepared beforehand. Here are some of the general steps involved in the process:
Initial Consultation
During this visit, the dentist will evaluate your oral health, take x-rays, review your medical history, and discuss the process as well as what the patient can expect. This will help the dentist create a treatment plan.
Implant Placement
This is when the treatment will take place. The dentist will place the titanium post into the jawbone and make sure that the healing process is going according to plan.
Abutment Placement
After healing has occurred the abutment is attached to the implant. This allows for the dental implant to have support and a dental accessory will be attached to the abutment.
Dental Restoration
This is when the dental implant process is completed. After the custom-made dental accessory is placed on the dental implant, you'll have a fully restored smile once more.
Take Control of Your Oral Health—Schedule Now!
Transform your smile, eat, speak, and smile without worry with dental implants. Call our office today to schedule an initial consultation.