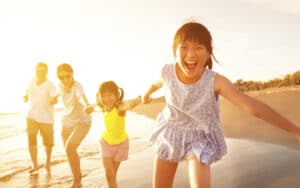 Family dental offices are great for taking care of dental issues of any age group and providing convenient dental services. When it comes to the dental office you choose, you will want to know which type of dentistry is right for you and your needs. There are specific benefits to each type but family dentistry has advantages that are great for any family looking to maintain their oral health.
1. Familiarity and Trust
When it comes to your health, whether oral or overall, you want a team that understands you and your family. This is built through a long-term relationship with a family dentist so that as your family grows, you already know where to go and what to expect.
Children can be prone to dental anxiety, but as they go to the same dentist's office as their parents and siblings, they can feel more comfortable—especially as they get treatment from a dentist who understands children's dental needs. Our dentists can help your children know what to expect from dental care, and we do everything we can to help them enjoy their time with us.
An added benefit that comes from familiarity and trust is personalized care based on your long-term dental history, this is because the dental team will know your specific needs without having to be caught up every visit.
2. Promoting Overall Health
The goal of every dental office is to promote oral health, but good oral health benefits your overall health as well. Family dentists use regular dental appointments to detect gum disease and other conditions related to cardiovascular issues and diabetes.
During your appointment, the dental team can address issues to help you achieve better overall health and quality of life. This is done through:
Preventive care.
Regular check-ups.
Cleanings.
Dental education.
By getting personalized dental advice, your family can experience improved oral health, diet, and quality of life.
3. Convenience and Coordination
When everyone in your family goes to the same dental office, you can schedule multiple family members at the same time, reducing the number of trips and time taken for treatment. The dentist will have your whole family's dental history, making the treatments quicker and more accurate to your needs.
3. Early Detection and Intervention
Dental health can be limited by hereditary dental issues. These conditions can be identified by family dentists since they know the dental history of the whole family, making prevention and treatment possible. Early detection is important for long-lasting health and limiting unnecessary pain and additional treatments in the future.
Children have a harder time protecting their oral health so early intervention is great for reducing the risk of dental issues in adulthood.
4. Family-Friendly Atmosphere
A family dental office tends to create a warm and welcoming environment because it caters to even the youngest of patients. There are child-friendly waiting areas with a friendly and approachable dental team that makes dental visits fun for children.
A family dentistry office staff is trained on the needs of each age group and how to communicate with them to give a family-friendly atmosphere.
5. Comprehensive Care for All Age Groups
In addition to being trained on how to communicate with all ages, family dentistry offices are experienced in dental treatments from pediatric to geriatric. This experience allows offices like ours to provide personalized treatment plans for every dental need.
We treat seniors, who may face issues like gum disease, tooth decay, or tooth loss, and children, who may face an increased chance of cavities or oral development issues.
Why Do You Need Family Dentistry?
To ensure oral and overall health, reduce dental anxiety, and receive personalized care, choose a family dentistry. Call our McCullough Dental today to schedule an appointment for your whole family!